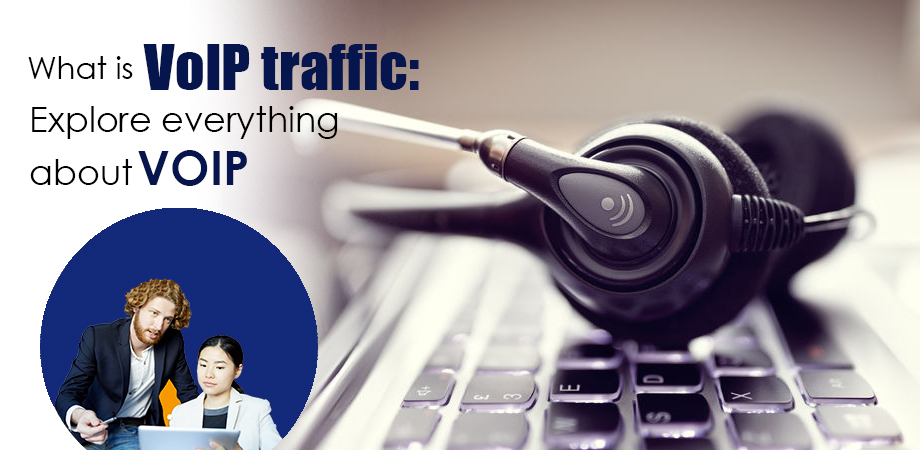 Wondering what is VoIP traffic and what roles does it play in connectivity? Well, let's discreetly scroll down and get an insight into VoIP technology.
In simple words, VoIP is all about allowing you to make or get calls with the help of the internet. VoIP traffic means voice communication sent in parts or as a whole using Internet Protocol over packet-switching. One thing to consider is that VOIP traffic does not include ISP-Bound Traffic which is useful for generating voice traffic using the PSTN.
We have explained VoIP Traffic and its types discreetly in this blog:
Types of VoIP Traffic
Mainly there are two types of VoIP traffic: Audio and Control Traffic. These types of traffic are listed here:
Audio Traffic is all about audio calls. SIP sends audio traffic from both sides if it sets up a call. This transfer is done via separate ports to the SIP (Session Initiation Protocol). Traffic. For audio traffic, a single VoIP call will require four ports at the server, out of which two ports are for receiving signals and the other two are for receiving on each side of the conversation.
Another type of VoIP traffic is Control Traffic, also known as SIP. It is perfect for subscribing to voice mail updates. This type of VoIP is also suitable for receiving & making phone calls and registering extensions to a server. One important thing to understand is that Control traffic does not contain audio calls. This VoIP traffic makes connecting inbound and outbound calls to wholesale voice carrier services easy.
Understanding VoIP traffic termination
VoIP termination means call termination in which the phone calls are routed from one provider to another until the call is delivered. The end user, or the destination, is where the call is received.
During the transmission, the voice termination provider will route incoming calls to the destination. It also ensures that the quality of the call is the same and does not deteriorate. With the development of VoIP technology, this transmission of calls without quality degradation is possible.
Common VoIP Termination Problems
In today's business world, VoIP call termination is essential. However, there are some fundamental problems that you need to be aware of to avoid them. A little guidance from the VoIP provider can be beneficial in resolving all the common VoIP termination issues:
These common problems are:
Echo or disturbance on VoIP calls
Early call termination
Poor call quality
data packet loss, and so on
Now, let's see who can use VoIP service:
VoIP Customers who want to inquire about associates between external service providers
Organizations that are thinking of switching solutions can use this technology.
Businesses or wholesale VoIP service providers that have challenging network support
Benefits of VoIP Traffic Service
If you're investing in the right equipment and devices, you'll reap the rewards of VoIP traffic services for the most. This VoIP technology allows the business an opportunity to fulfill it. VoIP mainly uses the world wide web for making or receiving calls.
So, it can benefit businesses in many ways. Here are some of the benefits that businesses can get with the availability of VoIP Traffic Service:
If we are talking about the average traditional phone service cost, then it can range from $30 to $50 every month. This increase in the traditional phone service cost can ultimately increase your bills. But, this is not the case with VoIP services. With VoIP, you must pay a lower monthly cost ranging from $15 to $30, depending on your required calling features.
One of the benefits of relying on VoIP traffic services is that it's a very safe and secure connection. You can get the best service from a trusted service provider according to your business requirement.
You can choose from the wholesale voice carrier market, international wholesale voice carrier, and telecom industry.
It's obvious to wonder if VoIP is secure for business or not. There will be complete security as VoIP traffic services can help businesses avoid security breaches. This technology mainly uses thorough testing of VoIP networks and encryption to keep the connection secure.
In-built features to boost productivity
Traditional landlines can sometimes be challenging, which puts constraints on your work. It could cause connectivity issues while making video conferencing.
Businesses that switch to VoIP services will witness various features that can help boost productivity. You can use VoIP phone system upgrades by seeking VoIP traffic service. Some of the crucial features of this service are voice recognition, call routing and so on.
VoIP system comes with numerous features, and one of them is auto-attendant and call transferring. VoIP systems make businesses seem more approachable and accessible. Unlike legacy phone services, VoIP services offer full conference calling features.
With VoIP, you can use multi-party calling, caller ID, etc. The good thing is that all these services are available at affordable charge of the package.
You can take any VoIP service package to enjoy all the above features and their benefits. You can stay connected via a secure connection. Thus, there will be a saving of huge money that could have been spent on purchasing other connectivity services.
VoIP phone service is a great technology to choose from as it allows companies worldwide to hire remote employees. It not only helps in making remote work easy but also in making indirect cost savings.
The physical offices will have to use analog telephones and traditional machines. But, VoIP systems allow employees to have quick face-to-face interactions anytime.
Free Calling Feature with VoIP Traffic
The VoIP service providers will also help businesses to achieve cost reduction. You will get the feature of fee calling for six months in the package. Even if you are not using the connection for a long time, you can still enjoy the free calling facility.
In addition to this, there will also be a new facility for call handling at low rates. Call-Manager software of the technology will let you use your mobile phone to make calls and enjoy high-quality service. All these calls from mobile can be done at low costs.
Setting up VoIP Service
There are certain components and prerequisites that you need to know while setting up VoIP Traffic. VoIP is a gateway that takes calls off the internet and produces them on PSTN lines. For this, there will be a need for a gateway that includes two main types of ports:
Telecom ports are crucial for taking analog or digital telephone lines.
An Ethernet interface to connect the gateway to the internet.
Conclusion
As you can see, VoIP is mainly a low-cost phone system that helps make or receive calls using the world wide web. So, this blog tells you everything about VoIP traffic, how VoIP benefits businesses, and how a VoIP service provider can help. Your business can get multiple features and benefits by choosing a reliable VoIP service provider.